Lockdown gave couples a chance to live under one roof, however with conditions applied. Couples today have a lot to deal with – constant zoom meetings, never-ending household work, balancing office, home, and kids. Additionally, coping up with the loneliness and thoughts about the virus, and the lack of personal space. All these cumulatively are pushing romance between couples to the back seat.
Here is a list of fantastic date ideas to rekindle the romance between couples. No matter if you are a new couple or a parent with three kids, this article has you covered.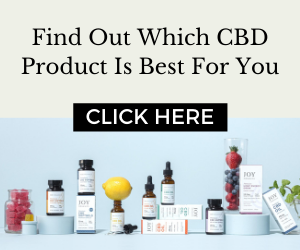 1. Set up a theme-based drinks party
Before lockdown, Friday nights were synonymous with drink dates. Send a romantic WhatsApp message to your partner, asking to get ready for a theme-based drink party on Friday night.
How about thrilling them with a red dress, lipstick, and matching décor? Or a dim candle lit drink party? Why not say cheers with a glass of Andre Champagne amidst the balcony garden enjoying the moon and cool breeze?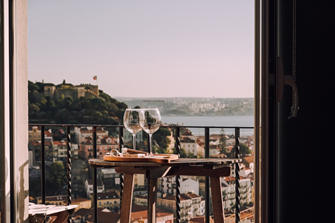 https://unsplash.com/photos/7Nyt3uDKKSo
Arrange your partner's favorite champagne and add a quotient of surprise and romance to the drink date. You can also make the swimming pool the venue for the drink date. 
2. Go on a virtual romantic trip
All our travel plans have been canceled owing to lockdown. Though it is good for safety, we do miss the travel fun. Couples who were planning to travel as a chance to escape the monotonicity of daily life are no exemption too. So, choose a time when both of you are free from office and family work. Grab a bowl of snacks. Unwind at the sofa in the living room or on bean bags in a balcony. Go on a virtual exploration of places you wished to cover had there been no lockdown.
Be it a virtual hike to the Great Wall of China, 360-degree virtual exploration of mountain ranges surrounding Myrtos Beach in Greece, live it fully while losing in each other's arms. No tickets, no extra spending, coupled with only love.
3. Relax in-home spa
Touch can work miracles to relax and to strengthen bonds. Massage can be a good idea to invoke love. Become masseuses to each other during this lockdown. Choose a space comfy for massage. Bring on aromatic oils, candles, and a hot towel. Give that best massage to him/her that kicks away all the stress out of their mind.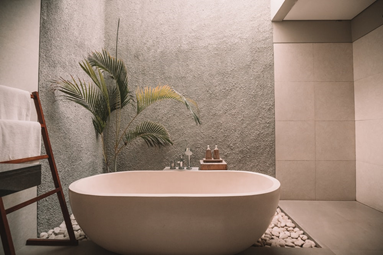 https://unsplash.com/photos/PibraWHb4h8
Let them relax fully with your love and massage. How about applying an organic homemade face pack too? Don't miss to enjoy the glimpse of that sweetest smile that springs on your partner's lips.
4. Spice it up with cooking challenges
Thanks to the lockdown, everyone's cooking skills have improved a bit. Use this chance to set up the mood between the couple. Open the refrigerator and choose ingredients to experiment on and go on a cooking challenge. The cook who cooks a delicious recipe fast gets the more points.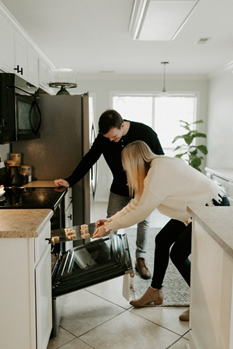 https://unsplash.com/photos/5we-PtvuCyE
5. Set up a balcony picnic
When it comes to outdoor date ideas for couples, picnics can be the easiest and affordable options. Use the same technique for at-home date ideas too. A green balcony or a porch makes the perfect venue for an indoor picnic.
Fill that picnic basket with snacks and drinks. Arrange a blanket and pillows to lean on to the wall. Arrange fresh flowers in the middle. Set the mood with Something by The Beatles or Purple Rains by Prince. Put those mobile phones away. Spend romantic time together by checking those sweet old days from the photo album. Do nothing else. Eat, talk, recollect sweet memories and repeat.
6. Enjoy movie nights
How can we not mention movie nights among the date ideas? Movies certainly are one of the best choices for the couple to relax and unwind. After all, it is vital to make the best use of NetFlix. Lockdown can be the best time to watch all the movies that have been lying there on the watchlist.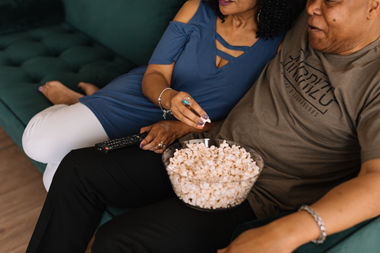 https://unsplash.com/photos/CtV2fhyHj6I
Put kids to sleep, if you have any. Switch on and dim those false ceiling lights. Grab a bigger bowl of homemade popcorn and yes, chilled beer and colas too. Play a fantastic movie on TV. Watch it together and forget the rest of the world.
Want to make movie night kinkier? Try watching a movie in the garden, if possible, with an open screen and projector. No garden? How about chilling with bean bags and deckchairs in the balcony with the favorite movie playing on the laptop at the balcony wall.
7. Play games
Ever played Pop the Balloon? Or Hoopla Loop? They suit couples best. Romantic Scribble, Truth or Dare with crazy and sexy questions, or Blindfolding can also work wonders for couples. A Sexy Treasure Hunt game can also be one of the worthwhile at-home date ideas. You can also play cards as they make a great option for enjoying the date night.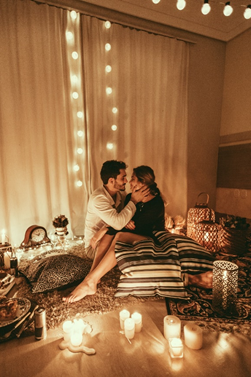 https://unsplash.com/photos/JDBCtEh5x9Y
Final Thoughts
Relationships can become challenging amidst lockdown and related stresses involved. Romantic at-home dates can be a savior to rekindle the romance between couples. Unleash your creative side to plan at home date ideas and gain the maximum out of it.