What's more soothing than soaking in a bathtub? Anytime you feel drained physically and mentally, you can pop into your bathtub and enjoy some quiet moments of luxurious soaks.
Indeed, bathing in tubs is extremely beneficial. It helps in cleansing and moisturizing your skin. It also benefits your whole body in detoxification.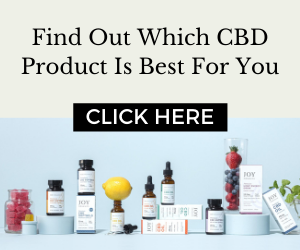 You can enrich your bath by adding certain salts. Moreso, it's rejuvenating to bathe in a pool of water enriched with essential oils and other recommended natural extracts.
This explains why many people are now installing tubs in their bathrooms. In 2018 alone, research revealed that the global bathtub market value is approximately $8.26 billion. 
Particularly, the majority are going for the convenient freestanding bathtub models. 
Apart from being convenient, they're also aesthetically attractive. The tubs are available in different styles. Hence, you're sure to get the ideal and comfy bathtub to heighten your bath time.
Some models may be costlier. But, they will offer you a lifetime of the luxurious spa-like experience many people are looking for.
More Reasons why People Are Going for Bathtubs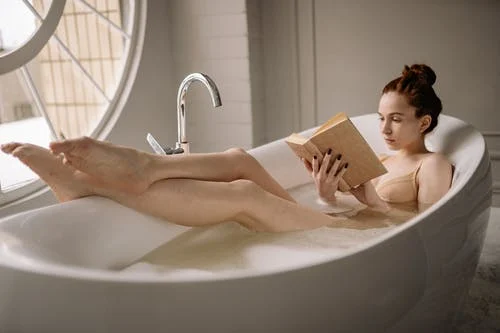 Bathtubs have existed for many years now. But, recently, manufacturers are coming up with more elegant tubs. This is why the likes of standalone tubs are now so much in demand.
Indeed, the last few years have seen bathtub models with new and enticing designs, colors, sizes, shapes, and features. There are options for:
Circulating water

Multiple colors and finishes (matte or glossy)

Head and backrests, and more
Some deeper models help prevent overflow. Such models also facilitate the whole body submersion in water. Hence, you get to have the soaking experience you need.
More so, once you acquire a bathtub model like the freestanding types, there's a reduced installation cost. These tubs can be located anywhere in the bathroom. However you like, you can choose to have the standalone tubs with showers positioned in a corner or even at the center. 
So, you don't need to have some sort of platform that the in-built models require. This is a huge advantage in terms of cost reduction on the bathtub installation. 
Our article below will look at the best bathtubs designed to enrich your bathtime. Let's delve in.
1. The Japanese Soaking Tubs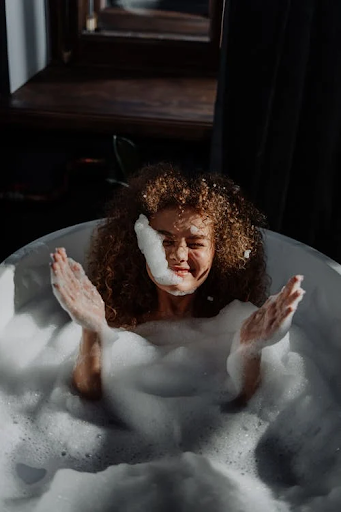 According to Forbes, Japanese soaking tubs are becoming very popular among users. The tubs are very relaxing and attractive, thus giving you the needed comfort. 
This bathtub model allows for a full-body soak, giving you a whole spa-like experience. Moreover, they come in different styles and materials. For example, Japanese tubs are one of the most popular freestanding tubs.
Most people are now using the standalone Japanese tubs as their ideal freestanding tub in a small bathroom. Indeed, these tubs are great for small bathrooms. They give a remarkably calming, deep soak while taking up only a small portion of your bathroom space.
So, if you want to fit your tub into a tiny space, you may want to consider this soaking tub. You can find the tiniest Japanese soak tubs as small as 40 inches in length. And, they go all the way to the standard size of 60 inches.
How Can You Benefit From Installing a Japanese Bathtub?
With their taller stature, these tubs come with an in-built seat. The tub's depth allows the average adult to submerge in water up to their shoulders. This gives you a relaxing feel and extensive soaks. 
The larger versions of the Japanese soaking tub allow you to add an extra seat for another bather. So, it's also ideal for couples.
The real pleasure of the Japanese soaking bathtub is that; it's entirely devoted to relaxation. According to Japanese culture, bathing is deeply connected to the concept of body renewal.
The science of soaking goes deeper than immersing yourself in hot water to give your body an instant cardiovascular workout. It helps improve circulation by dilating blood vessels. This, in turn, speeds up the healing process and helps flush out toxins from the body. 
That's why some of these tub designs will also allow you to add massaging air jets to heighten your hydrotherapy experience. This is perfect for relieving sore muscles after running.
So, if you struggle with chronic back muscle pain, regular hot and deep baths are shown to be incredibly therapeutic. With a Japanese soaking tub, you can get into the spa-level comfort every day. And, you attain all these benefits at the comfort of your home.
The depth of water in a Japanese tub helps retain the heat for a longer period. Thus, clouds of steam form part of the experience. So, while soaking, you can breathe in deep to let the steam flow in and ease your airways. It also helps to relieve chest congestion. 
A survey was done on bathing and shower habits in Japan based on the season. It revealed that almost 69% of respondents preferred to have a bath during the cold seasons. This tub style is excellent to get you through the discomfort associated with cold seasons.
2. The Oval Acrylic Tubs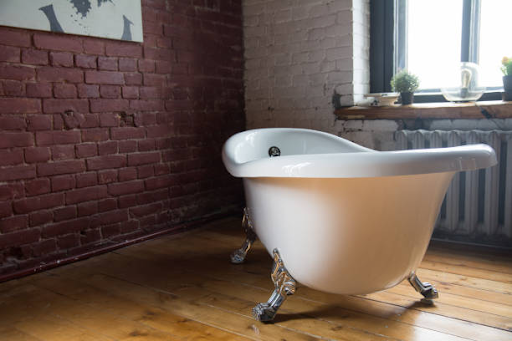 Are you looking to have a classically-styled bathroom? The oval acrylic tub, for example, the acrylic freestanding tub is one perfect finishing touch. 
If you want a tub that will create a style statement in your small bath space, this freestanding tub is worth considering. An example is in the picture above.
The tub's body consists of white glossy acrylic material. It's then strengthened with fiberglass. So, anytime you get into your bathroom, your eyes get attracted to the shiny white and polished chrome claw feet. 
The acrylic material is also scratch and stain resistant, so it should maintain its appealing look for many years ahead.
Besides, this is a bathtub designed to give you a deep soak. Most importantly, you can sit in and soak for long durations. This is courtesy of the tub's comfortable seat and leaning end. 
The tub is also double-walled to keep your soaking water hot for an extra duration. So, if you enjoy a long bath, you won't have to keep topping up some hot water. 
This is also good for those looking for cost-effective tubs when it comes to power bills. However, for the standalone model, you might have to acquire a separate freestanding tub faucet for the tub's feet. The feet usually attach to the tub with strong mounts. 
The stainless steel bracket on the tub's lower part gives it a remarkable load-bearing capacity. Hence, it can serve you strongly for many years ahead.
3. The Alcove Tub Designs
The alcove bathtub designs are also known as the three-wall-alcove tub design. They are a perfect example of bathtubs combining both form and functionality. 
These bathtubs contain a showerhead positioned on the upper sides of the tub. They're designed with convenience as the point of focus. 
The alcove tub is ideal for tighter spaces. Specifically for homes and apartments with smaller bathrooms. This convenience is the reason why many people fancy the alcove tub style in the modern day.
Other reasons why people adore this bathtub design is that:
They're affordable

They're considered practical and functional

You can decorate the tub to attain a high-end deluxe look

The tubs are easy to clean and maintain
The two main types available are:
Simple alcove bathtub

Luxury alcove bathtub
4. The Hot Tubs
Have you always desired a bathtub that can help you achieve a deep-soaking accompanied by warm relaxation? If yes, then a hot tub is exactly what you need.
They're classically made with air jets, hence forming a breathtaking atmosphere to rejuvenate, renew, and refresh both your mind and body. 
Hot tubs tend to be placed in bathrooms with luxurious surroundings. Some of the decor features that tend to accompany these tubs include:
Tiled walls

Marble floors

Panoramic windows
In short, hot tubs give you the ultimate spa and resort-like atmosphere. It's also a form of hydrotherapy that helps restore wellness, especially for those with achy joints, muscles, and arthritis.
Conclusion
Choosing the ideal bathtub for your bathroom can benefit you immensely. It will make your bathroom look gorgeous. And, you'll also get to enjoy soothing soaks for a long time. 
The most beautiful thing is that you have the freedom to choose what you want. With all the liberty, you can find the tub you like. So, you can choose one that will transform your bathroom into a spa. Our article above should guide you to the best baths that will enrich your bathtime.