Nobody in the music business has endured as long and affected so many genres as Glen Campbell. During his 50 years in show business, Campbell released more than 70 albums.
He sold 45 million records and accumulated 12 RIAA gold albums, four platinum albums, and one double-platinum album. He placed a total of 80 different songs on the charts. Campbell's hits include his recordings of "Gentle on My Mind"; "By the Time I Get to Phoenix", "Wichita Lineman", "Galveston"; Larry Weiss's "Rhinestone Cowboy"; and "Southern Nights".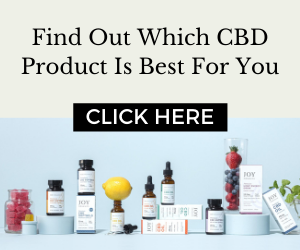 Campbell made history in 1967 by winning four Grammys in the country and pop categories. For "Gentle on My Mind", he received two awards in country and western; "By the Time I Get to Phoenix" did the same in pop. Three of his early hits later won Grammy Hall of Fame Awards (2000, 2004, 2008), while Campbell himself won the Grammy Lifetime Achievement Award in 2012.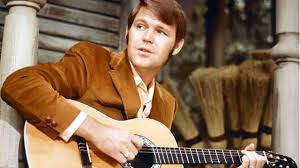 Glen Travis Campbell was born in Billstown, a tiny community near Delight in Pike County, Arkansas on April 22, 1936, He was the seventh son of 12 children. In 1960, Campbell moved to Los Angeles to become a session musician. That October, he joined the Champs and had his first taste of success with the mega instrumental hit "Tequila" Campbell played on recordings by Bobby Darin, Ricky Nelson, Dean Martin, Nat King Cole, the Monkees, Nancy Sinatra, Merle Haggard, Jan and Dean, Frank Sinatra, Ronnie Dove, Phil Spector and Elvis Presley. He and Presley became friends when he helped record the soundtrack for Viva Las Vegas in 1964.
From December 1964 to early March 1965, Campbell was a touring member of the Beach Boys, filling in for Brian Wilson, playing bass guitar and singing falsetto harmonies.
From 1967's " Gentle on my mind, Campbell became a super star in country and pop music, as well as TV and movies. He had his own TV series and won acclaim with a nomination for best supporting actor in True Grit (1969) with John Wayne and Kim Darby.
After three failed marriages Campbell began a relationship with fellow country artist Tanya Tucker, who was 22 years younger than he. The relationship was marked by frequent tabloid gossip and articles. But it did keep his name in the news. Their drunken and drug fueled battles dominated the tabloids for their entire relationship. By 1980 now married for
a fourth time Campbell had problems with alcoholism and cocaine addiction. He was arrested in 2003 and pleaded guilty to drunk driving and leaving the scene of an accident.
He spent 10 days in jail.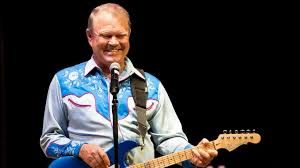 In June 2011, Campbell announced he had been diagnosed with Alzheimer's disease. According to his family, symptoms of the disease had been occurring for years, becoming
increasingly evident as time progressed. Campbell went on a final "Goodbye Tour" with three of his children joining him in his backup band.
He performed "Rhinestone Cowboy" as a goodbye at the 2012 Grammy Awards ceremony held on February 12, 2012. It was his final televised on-stage performance.
On March 8, 2016, Rolling Stone reported that Campbell was living in a Nashville memory care facility and that he was in the "final stages" of his disease. He was unable to communicate with people or understand what people said to him. However, his family stated he was receiving good care and was "happy" and "cheerful" Campbell died of Alzheimer's disease in Nashville, Tennessee, on August 8, 2017.
His professional career spanned the beginnings of rock n roll through the emergence of country music as a true musical genre. His contributions are so numerous that I couldn't
possibly set them down in one article. Needless to say the passing of another bright star in the musical firmament leaves another hole in the list of original legends of true rock n roll and country still alive.
We salute Glen Travis Campbell one of the last of a dying breed.