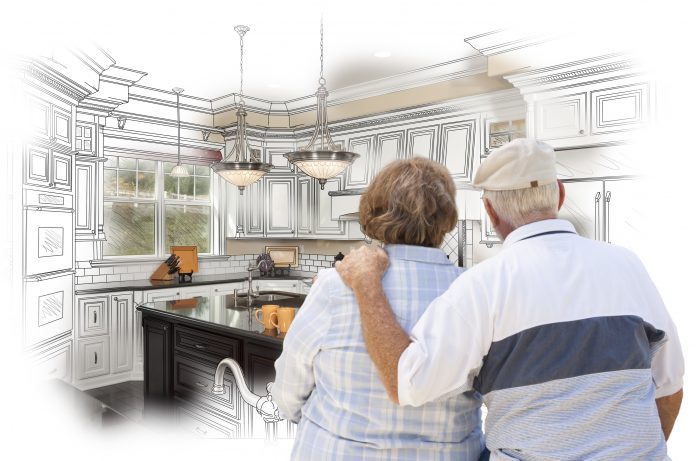 (From the book "The Best of the Rest – Downsizing for Boomers and Seniors" Chapter 2)
A note of caution: When planning renovations try to have them done so they don't distract from the resale value of your home. Although you plan to live there sometimes it is necessary to sell relatively quickly. There are many renovations that add to the value of a home but some can distract and make it more difficult to get the monetary value out. And can make a senior friendly home, too! Consider A+ Construction & Remodeling.
The Bathroom
Most bathrooms in older homes need to be adopted to meet the special needs of seniors. Many washroom doors are too narrow to accommodate a walker or wheelchair. Also if the bathroom is small, a fall against the door could block rescuers. A pocket door that slides into the wall is a good preventative measure. Another option is a quality folding door.
Some things to consider:
A door that is wide enough to accommodate a walker (if needed)
A shower or walk-in tub
A new "raised" toilet
Arthritic-friendly taps with a heat regulator
Professionally installed grab bars (There are some fabulous new decorative ones)
Accessible drawers for storage
Proper lighting (a priority!)
Decora light switches
Phone, intercom or emergency button
A floor surface that is senior-friendly and easy to maintain
The Kitchen
Excellent lighting!
A walker or wheel-chair friendly entrance
Cupboards adjusted to convenient heights
D-shaped handles rather than knobs
Pivoting or rotating shelves in corner cabinets
Countertops with rounded edges (seniors bruise so easily on sharp edges)
Faucet with a single lever to control temperature and flow
Sufficient electrical outlets in convenient locations
Decora light switches
A vertical cupboard or pantry
A stove with accessible knobs
A heat-proof surface beside the stove
A convenient height and location for the microwave
A floor surface that is senior-friendly and easy to maintain
Entrance door
Well- lit area
Door at least 32 inches wide
Lever door handles
A keyless locking system
Exterior ramp
Some seniors have great difficulty handling one step let alone several. A ramp can mean they are not a prisoner in their own home. Have it professionally designed and installed if possible. We have seen several that were constructed of interlocking bricks and, at first, you didn't even know that it was a ramp.
Not too steep
A landing at the bottom and top (and perhaps half way up)
A surface that is not slippery when wet
Handrails on both sides of the ramp
Lower guardrails to keep walkers and wheelchairs "on track."