When I began writing this article I had to rethink my reasons for kayaking. It has been so long since my first few paddle strokes.
I began paddling because I was tired of competitive sailing; tired of setting up the rigging and sails, then taking it back down again. On a good day it took fifteen minutes to get ready and fifteen minutes to put everything away. On a bad day with high wind it seemed to take forever.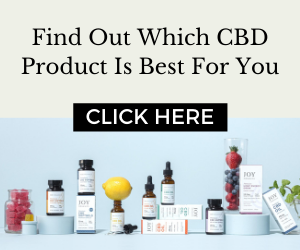 Kayaking is easier than sailing – put on a life jacket, grab a paddle and get in the yak and leave the shore. I switched from sailing to kayaking thirty-two years ago. I seldom sail anymore…only on someone else's boat.
Today, at age seventy-one, I consider myself a professional kayaker. My wife Christy and I co-own an outfitting company called WoggWorks Kayaking. Our company is twelve years old and still growing.  We rent. We give certified instruction. We guide. We have a large community of volunteers of all ages called affectionately Woggers. Even Addie, our eleven year old granddaughter is beginning to help; she is our youngest Wogger.
WoggWorks Kayaking also specializes in assisting people with disabilities to get on the water. We are certified and have specialized equipment for people suffering strokes, amputees, neurological issues and paraplegics.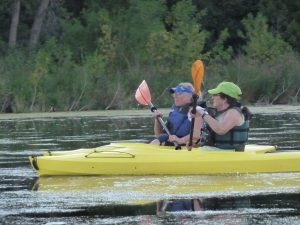 Back to the big question – Why Kayak? 
My answer is not all that complex…I guess I enjoy challenges even at age seventy-one. 
Of course I realize my limitations: age, diabetes, arthritis and hypothyroidism. It still doesn't stop me from challenges
One challenge is paddling in adverse conditions – wind, rain, waves, even snow. I enjoyed surfing the Gulf of Mexico near Mobile Bay, paddling white water in southeast Missouri and cold weather on local rivers and big lakes.
Five years ago I took up the challenge of long distance kayak racing including designing and building my own boats. I don't win, but I commit, compete and complete. In two years I am planning to compete in the MR 340 – a race from Kansas City to St Louis – 340 miles.
The positive results of my challenges – my arthritis discomfort is minimal, my weight is consistent and at an acceptable level, my diabetes is in the safety zone and most of the time I have good energy.
Back to the big question – Why Kayak? 
My challenge fixation is the exception and not the rule among our paddlers. I asked my wife, Christy for her reasons.
Her reasons were a bit, shall I say, more sane or less vigorous than mine. Christy is an excellent paddler, instructor, guide and very patient nature photographer.
Her reasons for kayaking is a stress reliever. The fluid motion of the water, view nature at eye level and feeling a spiritual contact with the world brings a sense of peace and calm. She has been paddling for over fifteen years and still finds wonder each time she leaves shore.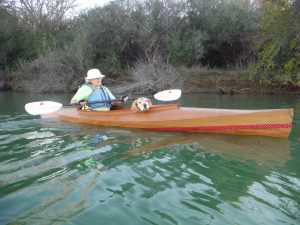 Back to the big question – Why Kayak? 
Cindy is a regular at WoggWorks. She is a mid fifties professional caregiver with a tough, emotionally draining job – Nurse Navigator assisting cancer patients. On the lake, Cindy helps with our rental services as needed. We certified her in basic and advanced rescue techniques, a couple of years ago, and she is now working on a competitive style paddle stroke.
She started out fearfully paddling a very simple recreational boat and after five years is paddling a serious fast sea kayak.
For Cindy it is both a challenge and a stress relief.  She is on the water for an hour and a half a week, sometimes even more. As she leaves the shore there is tenseness in her face; when he returns with a peaceful smile.
Back to the big question – Why Kayak? 
The final answer comes from our dear, sweet friend, seventy-six year old Mary Kay. She started out just watching for a year, sometimes helping at the shore.
Her excuse for not kayaking was she couldn't swim. We kept telling her that she would be safe wearing a life vest. Eventually she took some winter indoor pool lessons and had a great time.
Another year past hanging out with us at the lake, but not paddling –  just watching.
This year Mary Kay decided it was time to kayak outdoors; she's been on the lake a number of times including paddling with her grandson.
She feels a sense of accomplishment meeting her fears. She loves paddling still, calm estuaries, observing nature at her own pace in her own time.
Let's get back to big the question: Why Kayak? 
Many answers: 
For me it is the challenge.
For Christy, my wife it is spiritual renewal.
For Cindy, a professional caregiver it is a stress relief.
For Mary Kay it is a sense of accomplishment seeing nature in a new way.
For all of us at WoggWorks kayaking has built strong community that is continually evolving. It brings joy to people.
My advice is to take some lessons and learn to paddle properly, then rent a kayak and get on the water. It will open up a whole new world…giving a new perspective eighteen inches off the water's surface.
Let's finally answer the big question: Why Kayak? 
Paulo Coelho said – Remember that wherever your heart is, there you will find your treasure.
There are as many reasons as there are paddlers. It is time to find your treasure on the water in a kayak.
Check out this interesting video on how kayaks are made. Click here