In 2014, John Mather decided to celebrate his 60th birthday by attempting to swim the length of all seventeen lakes contained within the English Lake District, little realising the time, effort or the planning that would be involved.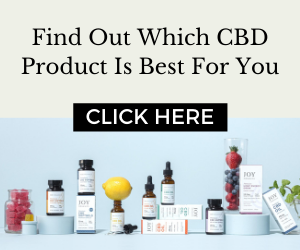 These 17 lakes range in size from Brothers Water, the smallest which is just under half a mile in length, to Windermere, the longest natural lake in England, which is ten and a half miles long.
John estimates that he swam a total distance of 40miles, which is greater than that swum by someone crossing the English Channel, by the time he completed this task in October 2016.  He normally swam with colleagues and was always supported by one or more boats in the busier lakes.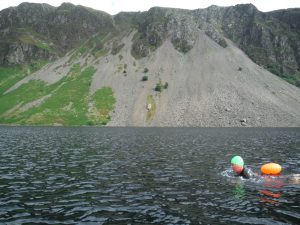 He was fortunate to see and experience the Lake District in many of its majestic moods and glories.  He was also rewarded with tantalising glimpses of red squirrel, cormorants, woodpeckers and deer.
As well as making John aware of both the beauty and fragility of this wonderful land, he used his experiences to write and illustrate the account of his journey.  John is particularly keen to chart both the pressures on the lakes and also the current works being carried out to improve water quality and encourage wild life.
He describes many highlights in the swim: heading straight down the length of Wast Water in the shadow of the mighty screes; racing with four hundred other swimmers along the length of Coniston Water and even squeezing through the narrowest of tree lined passageways between Elter Water's hidden pools.
Unfortunately not every swim went to plan.  And his tales of enduring the southern shores of Windermere in a torrential rain storm and misjudging the length and temperatures of Bassenthwaite Lake are quite frightening!  He was not able to swim in those three lakes used as reservoirs.  These are Thirlmere, Haweswater and Ennerdale Water.
John was particularly pleased with his successful swim of Ullswater.  He did this to advertise that "Ullswater (and the Lake District) was open for business" following the flooding caused by Storm Desmond in December 2015.
He hopes that the book will make all water users, not just the ever growing number of swimmers taking up open water swimming, be more aware of their responsibilities and their need to safeguard this precious commodity for future generations.
John is passionate about swimming and has swum in lakes and pools, in the UK and overseas, most of his life.  His coldest swim was in Siberia's Lake Baikal!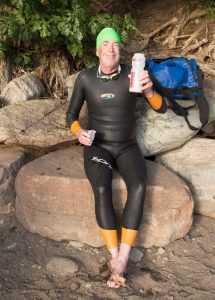 John was born and brought up in Bury, Lancashire and now lives in Thursby, near Carlisle, Cumbria.
He is delighted that he has already sold over 500 copies of his book and has been interviewed about his swimming exploits on both BBC Radio 4 and also Granada TV.