The first thing you see when you drive to Mesa Verde National Park is the Visitor Center, built in 2012. When we arrived, showing our AMERICA THE BEAUTIFUL Senior Passes was all we needed for entrance. A lifetime pass is available to U.S. citizens or permanent residents age 62 or over with documentation of age and residency or citizenship and you can buy them at many national parks. You can buy it annually for $20, or a lifetime's worth of visits to the natural wonders of our country for only $80 ($90 online). If, like these old dogs, you intend to do a lot of traveling, the lifetime pass is a very worthwhile investment.
Whether you opt for annual or lifetime Senior Passes, you'll have access to more than 2,000 recreation sites managed by six federal agencies. Your traveling companions can also enter for free since the pass admits pass owner/s and passengers in any per-vehicle fee area and pass owner plus three adults, not to exceed four adults, where per-person fees are charged. It's one of the country's best buys! You can find full information at https://www.nps.gov/planyourvisit/passes.htm.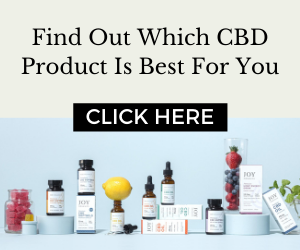 But back to the Mesa Verde Visitor Center—the array of exhibits there will help you plan your visit to the park. You'll find a look into the Ancestral Pueblo culture and daily life the park celebrates, information on the park's infrastructure, and art from modern artists with their present-day perspectives on Mesa Verde.
Past the Visitor Center, the drive is 20 miles up climbing, winding roads to the park entrance. We didn't buy tickets for guided tours in Mesa Verde because we wanted to keep our schedule flexible, but current research cautions that if you plan to visit Cliff Palace, Balcony House, or Long House you need to purchase tickets first, in person, at the Visitor Center.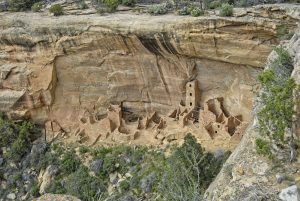 We lucked out and were able to enter Spruce Tree House (without touching anything, of course) without a special ticket, but Cliff Palace was closed and Balcony House sounded like too much of a climb for this senior. Sadly, Spruce Tree House has since been closed because of dangerous conditions. We're glad to have had the opportunity to step inside a dwelling more than 700 years old!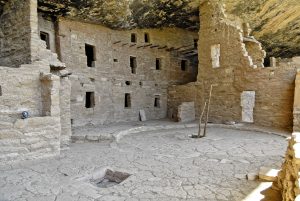 The Ancestral Pueblo people made Mesa Verde their home from AD 600 to 1300. Today the park protects nearly 5,000 known archeological sites, including 600 cliff dwellings that are some of the most notable and best preserved in the United States. And most of them can be viewed by simply driving around the park, without the need for any extensive climbing.
Nothing prepared us for ancient aura of Mesa Verde—it is a magical and mysterious place. You can hardly go anywhere without coming across yet another dwelling place carved into the cliffs that surround it. And the great wide-open skies of the Southwest provide a glorious framework. We drove… and stopped… and looked… and found something new every time. Nearly every place we stopped, we looked across wide canyons to discover yet one or more dwellings tucked into a spot on the other side, topped by the green tables the park is named for—muy verdes mesas in many directions. We also visited several of the educational sites the park offers, to gain more insight into the people who once lived there.
We stayed at Far View Lodge, and the park service describes it best: "Far View Lodge sits on a high shoulder of Mesa Verde… offering panoramic vistas into three states. It's simple here, quiet enough to hear the ravens fly by. No TVs. Nothing fancy. Absolutely beautiful. Peaceful. A place to linger and appreciate why people lived here for seven centuries." We walked across the parking lot for dinner at the Metate Room at the Lodge—and found the restaurant well worth its good reputation. We had elk and it was delicious. Plus, the restaurant had one of the prettiest views we saw all day, captured in a quick stroll outdoors with my iPhone.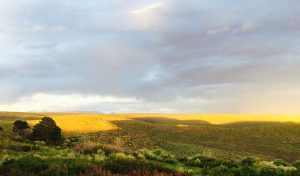 Although we had hoped to stay another night, the weather turned sour on us, so we headed to Albuquerque on US 550 and found unanticipated beauty in a spot along our route—Angel Peak Badlands Overlook. We just wanted to stretch our legs, so we took a turnoff. Serendipity! If you're driving that same road, use your GPS to locate Bloomfield, and when you get near it, look for a sign that says Overlook. You'll be on a dirt road that doesn't look like much and seems like it's not headed anywhere, but take it to the end—there you'll look out over a vast and surprisingly lovely landscape.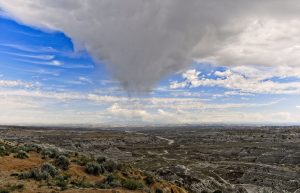 Old Dogs, New Trips—it's the tongue-in-cheek name we've given our adventures. We're a couple of seniors who feel young enough to make travel what we do—one has years of experience as a writer/editor and publicist, the other as a graphic designer and photographer. We do all our own booking and try not to spend a lot, and we like to keep it simple but fun. We share our successes—and admit our pitfalls, to help our readers avoid them. And we like to express our appreciation for the best meals, places and people we're lucky enough to find, but we aren't sponsored or compensated by any of the businesses we mention.
Text and photos by Vay David and John Laudando
olddogsnewtrips@gmail.com