Entering your golden years doesn't necessarily mean losing your independence. When Marc and Marlyn Spivak downsized from their large single-family home into a Lincolnshire, Illinois condominium, the active couple were determined to spend their retirement in the comfort of their new home for as long as possible. Knowing the kitchen and bath needed serious updating, and planning for potential health issues in the future, they retained the services of Northbrook, Illinois architect Michael Menn. Menn is a Certified Aging in Place Specialist (CAPS) who has been specially trained in designing safe and attractive living spaces for older adults.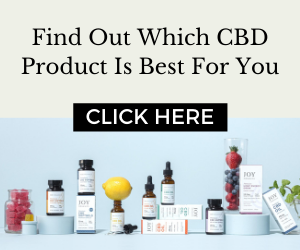 (Smooth countertops, an electric glass cooktop, plenty of cabinet storage and spectacular views are highlights of the Spivak's kitchen.)
Menn had a 90-day window of time to begin and complete the remodeling of the condominium. In addition to the short time frame, his design team dealt with the numerous regulations involved when initiating construction in a multi-unit dwelling. "It's a challenge to complete a project within a condominium board's restrictions and to not disturb or inconvenience the building's residents, but we succeeded," said Menn. Those challenges included removing debris and old appliances, scheduling elevators and plumbing shut-offs, parking for contractor vehicles, keeping noise and dust to a minimum, and bringing in new construction materials and products.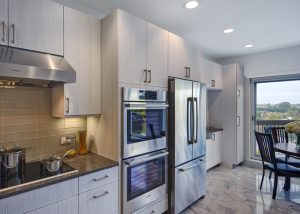 (Electric in-wall ovens are easily accessible from any height.)
The original kitchen was demolished to the bare walls. The exhaust hood was relocated, requiring the ceiling to be removed. With the ceiling exposed, new ducting for the hood, energy efficient LED can lighting, and a water line for the new refrigerator's ice cube maker were installed. After the walls and ceiling were buttoned up, they were covered with a fresh coat of paint. The new kitchen cabinets feature soft-close doors and drawers and smooth black maintenance-free quartz counter tops.  Two wall-mounted ovens were added, as was a magnetic induction cooktop that features important safety technology to protect from burned hands. A special cabinet was created to store Marlyn's Kitchen Aid mixer and accessories, and a ledge shelf in front of the microwave that can be used to temporarily set hot items such as coffee and soup. The microwave was mounted low to make it easily accessible should the homeowners be confined to a wheelchair later in life. In fact, all the traffic areas were widened for that reason. The peninsula was designed to overlook the wonderful views outdoors, and guests can sit at the table next to the peninsula, eat meals, play cards and be a part of the action in the kitchen.
Many safety and convenience features were designed into the master bath. Continuing with the black, white and grey color palette that is used throughout the condominium, the old tub deck and concrete floor were removed and a new zero threshold, custom curbless shower stall was created. A virtually invisible ramp gently rises upward and into the shower stall allowing easy access for a rolling walker or wheelchair. The floor tiles have a textured surface to help prevent slipping. A built-in bench inside the shower stall and a teak wood folding bench provide optional seated bathing, and a duplicate bench on the exterior of the stall offers seating space for dressing or undressing. Other safety features include anti-scalding faucets and multiple grab bars. Recessed niches are for shampoo and soap storage. The vanity area features three sinks. Again planning for the future, the center sink is mounted low and the pipes are enclosed, allowing easy and safe access from a wheelchair. Stylish and bright LED light fixtures above the large mirrors, dual medicine cabinets, GFCI electrical outlets and ample storage cabinets with wide handles round out the master bath's numerous safety and aesthetic features.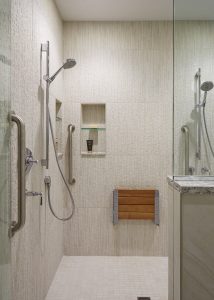 (The fold-down teak wood bench and multiple showerheads allow for flexibility and a thoroughly enjoyable shower experience.)
The Spivak's aren't the first senior clients to retain Menn. In a Northbrook, Illinois home, Menn was retained to design and remodel a large master bath for two seniors who use wheelchairs. The entire bath, including an outdated whirlpool tub, was deconstructed. Menn designed a new zero-threshold shower with a built-in bench seat. The toilet was recessed into the wall to provide easy access and transferability from the shower. With these significant improvements, the homeowners now enjoy an attractive and highly functional master bath.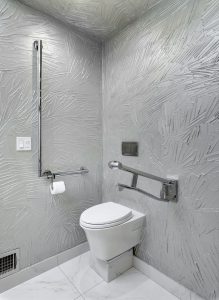 (In this Northbrook, Illinois bath, Menn recessed the toilet tank into the wall and raised the seat height to increase maneuverability within the room.)
More than a quarter-million Americans turn 65 years of age every month. And, more seniors are choosing to remain in their homes for as long as possible. These two homes are sterling examples of modern technology combined with expert design, resulting in happy seniors enjoying their lives while living safely and securely in their own homes.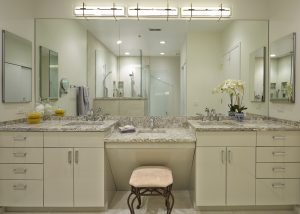 (Lowering the height of the third sink make this area very accessible.)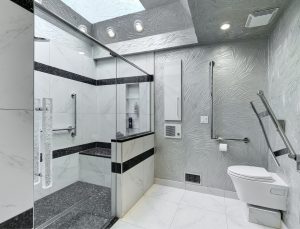 (Multiple grab bar configurations allow the homeowners to safely and easily sit and transfer positions within the shower area.)
For more information: www.michaelmenn.com
(Michael Menn's remodeling suggestions for Aging In Place)
Install an elevator or chairlift if you live in a multi-level home.
Treat yourself to nice amenities like a home theater or home exercise room.
Make sure doorways and hallways are wide enough to accommodate a wheelchair should it be needed in the future.
Position illuminated large button on/off light switches in locations that can be reached from a wheelchair. New LED lighting is brighter and saves energy.
Consider relocating the master bedroom to the main floor if you live in a multi-level home.
Be cautious of installing shag carpeting because it is difficult to maneuver a wheelchair or walker over it.
Be aware of the height of kitchen countertops, sinks, stoves, and cabinets. You want to avoid too much bending. Move your most frequently used dishes, pots and pans to the lower cabinets. Roll-out shelves are ideal and may be retrofitted to existing cabinets.
Electric cooktops and ovens are much safer than gas.
Countertops should have smooth rounded edges.
Kitchen faucets with separate hot/cold handles help prevent scalding.
In the bathroom, install a zero-threshold shower with a bench. This helps to eliminate the possibility of tripping and falling and provides easy access for a walker or wheelchair if needed in the future.
Be certain the shower has a seat and grab bars. Even if the grab bars are not installed now, make sure there is wood behind the wall tiles so they can be installed should they be needed in the future.
The same holds true for grab bars by the toilet. And make sure the toilet seat is high enough, so it is easy to sit down and stand up.
(Michael Menn explains CAPS)
Certified Aging in Place Specialists (or "CAPS") professionals have been trained in the strategies and techniques for designing and building aesthetically enriching, barrier-free living environments for seniors.
The CAPS program goes far beyond design to address local building codes and standards, common remodeling expenditures and projects, product ideas, and resources needed to provide comprehensive and practical aging-in-place solutions. All CAPS graduates pledge to uphold a code of ethics and are required to maintain their designation by attending continuing education programs and participating in community service.
What is the CAPS designation?
A Certified Aging-in-Place Specialist (CAPS) has been trained in:
The unique needs of the older adult population
Aging-in-place home modifications
Common remodeling projects
Solutions to common barriers
Keep in mind that when you retain a Certified Aging-in-Place Specialist, you are purchasing a service rather than a product. Each CAPS professional draws from a different knowledge base and will approach each project in a different way. No matter where you start in the process, you will eventually need to hire a professional remodeler to make the modifications to your home.