Cartagena de Indias … it's in Columbia…and it's our first trip to South America. We're here on our annual winter trip to warmer climes. First, unlike in the film Romancing the Stone, it's properly pronounced kar-ta-hay­-na, not kar-ta-ha-nya. No ñ.
Second, it's hot in more ways than one. Oddly, the humidity rises in the evening as the temperature lowers, so it feels pretty warm just about all the time. Cartagena's average high temperature nearly year-round is 87—which is a big contrast when you've arrived there from temperatures in the teens. If the heat bothers you, be prepared. Be sure to book yourself into a hotel with a great swimming pool, because the beaches aren't as appealing as other Caribbean beaches you may know about. Let's be honest … they are very crowded. They're also full of vendors wanting to sell you almost anything imaginable. We had thought to dip in the ocean anytime we got too hot, but it was not to be. We settled for our hotel's small pool.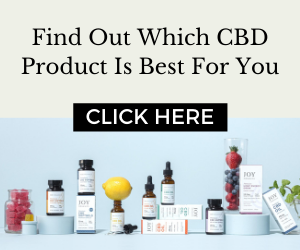 So, where's the charm, you might ask? It's in the old walled city (Centro) and the up-and-coming area of Getsemani, a flurry of color and wall art that some might consider graffiti but the more adventurous find to be a great expression of exuberant local inventiveness and artistic talent. San Diego is an area built around a square that we discovered on our last two days there. More later…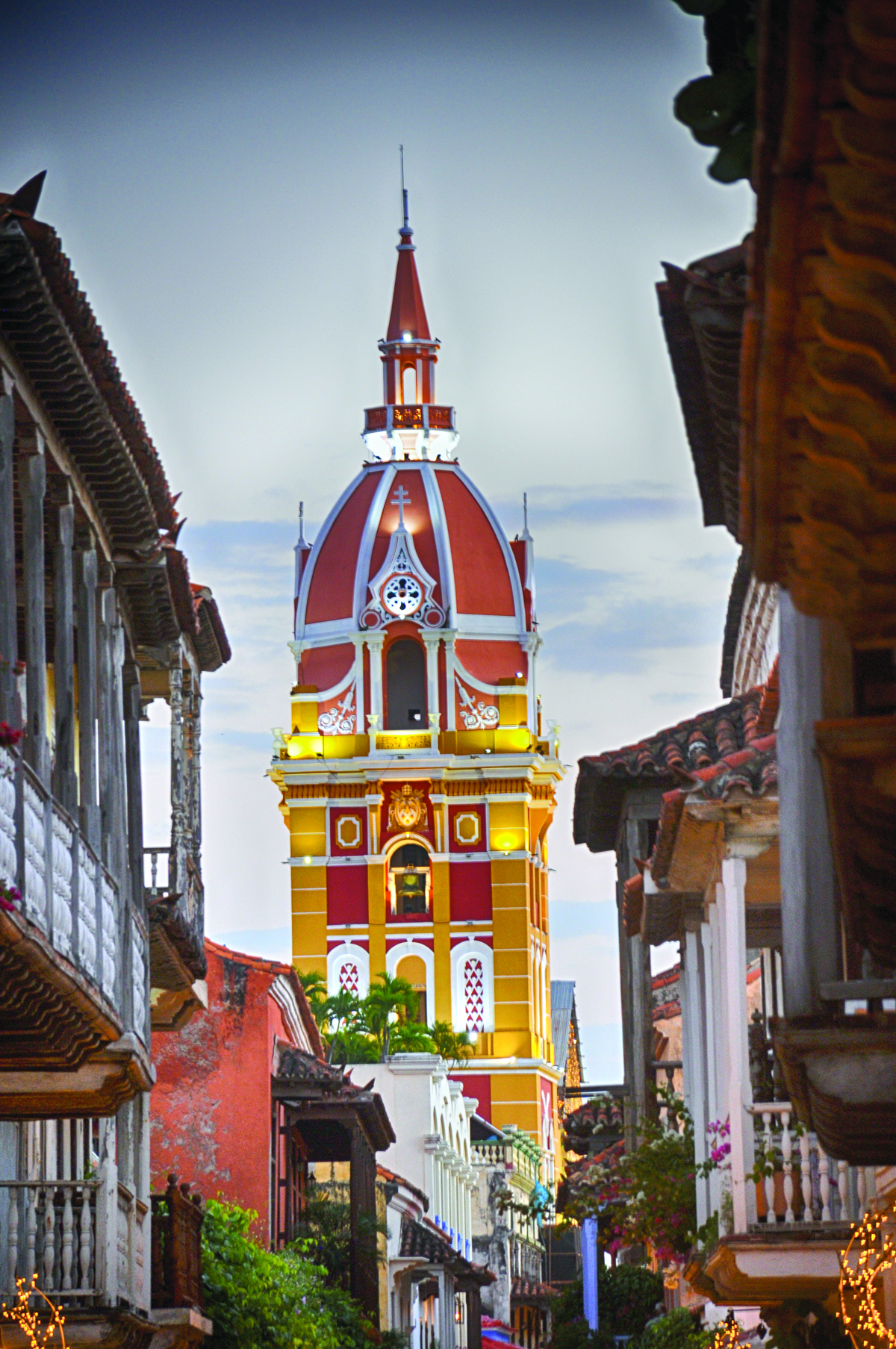 Bottom line … if you want to eat, drink and move around inexpensively, Cartagena can hardly be beat. We found cab rides to be inexpensive with helpful drivers … and they were a welcome, air-conditioned way to get around. We hailed cabs from all over the place, two to four times a day, and were only disappointed once. An entire cab ride from our hotel, two miles from the old city, cost less than a New York City cab does before it even goes one foot. And several cab drivers refused tips as well.
Here are our best discoveries about Cartagena:
Splurge on your hotel. Since everything else … food, getting around, great drinks … is so inexpensive, indulge in fun and comfy lodgings. As I said before … a good pool is a must. On our last two days there, we discovered an area … San Diego… that wasn't really talked about in the Cartagena reading material we checked out before we went. It boasted many boutique hotels and seemed to be converting many buildings to add to their numbers. The ones we peered into all had small pools and the air of an oasis. And the area had the feel of Centro without the crowds or the surfeit of vendors. If we go back, we'll definitely look for one of those small hotels. With a pool.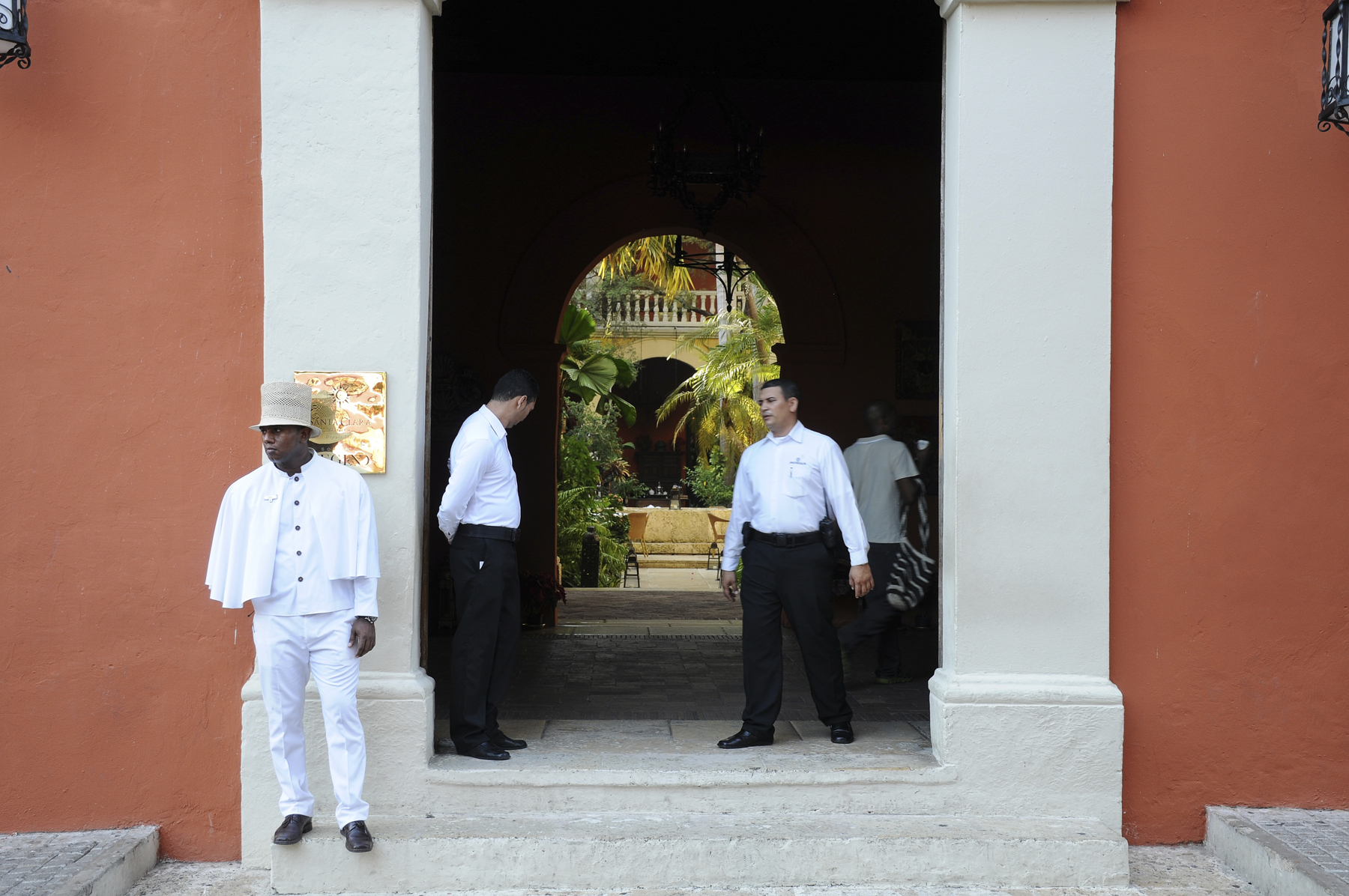 Don't stay too long. Three to five days was enough for what we really wanted to see and do in Cartagena. But Cartagena was interesting enough that we're willing to go back and visit again, especially if we stay in one of those boutique hotels. We stayed in Lagunita but would definitely try another area closer to Centro if we return.
NH Galleria, where we saw a stunning exhibit of photographs of the Palenqueras hermosa…women who stroll the streets of Cartagena selling fruit and wares from baskets atop their heads. Though these women, when you see then on the street, are in gloriously colorful costumes, the exhibit put fifty of them in identical white dresses and displayed them in five rows of ten on a black wall. The exhibit, called "Weaving Streets" by Columbian artist Ruby Rumie, has even been translated into postage stamps. Much of it can still be seen on the NHGalleria website and is really worth the effort. This small gallery, located across from the wall on the corner of Calle 35, is a cool and beautiful spot to while away a few hours. (NOTE: We also learned you SHOULD NOT take these ladies photos without buying their fruit or offering them some sort of compensation.)
The Museo de Arte Moderno, as contrasted to NH Galleria, sadly, was not air-conditioned, and the impressive collection of Columbian art there has suffered. We saw extensive works by Enrique Grau, and his model Rita is featured in several paintings, silk screens and sculpture. His loving portrayals of her in many moods and poses make you wonder what their relationship might have been, though extensive web searches reveal nothing. Cecilia Porras' work was also featured and it made me sad to see she only lived to be 52 … but she created a great deal of good art in her short life. The museum is in a 17th century Customs House on the Plaza de San Pedro Clavier. The plaza is peppered (and definitely spiced!) with the wrought-iron sculpture of Edgardo Carmona. These charming figures, reminiscent of the Tin Man in the Wizard of Oz, depict Columbians in everyday tasks. We stopped to wonder at a different one each time we wandered through the Plaza. (Looking him up online, I found he had a hugely successful exhibit that was unveiled in Fort Myers, Florida in 2016. The city actually bought 23 of them with plans to place them throughout the city and its environs. Makes me want to go see.)
We took a very entertaining walking tour with Free Tour Cartagena. Our fun-loving guide, English-speaking Edgar, really should be on stage or in films. If you take the tour, keep your fingers crossed that he'll be the one to tell you about the history of his city.
Food! It's hard to go wrong with the food in Cartagena. Mostly, we feasted on seafood wherever we went. The food is fresh and good and inexpensive. We returned to three places in particular: Enoca and El Bistro (PERFECTLY cooked tuna steak) in the old city, and Carbon de Pollo (AWESOME margaritas), a few blocks from the gargantuan beach of Boca Grande. All three were so reasonably priced we couldn't believe our luck. We also enjoyed Casa de Socorro in Getsemani, and by chance found a table at Restaurante Don Juan one night. We'd been walking for hours and the temperatures were rising. All I wanted was a restaurant that was air-conditioned, looked interesting and seemed to have space, so in we went and were seated immediately. Later, we learned Don Juan's one of the highest-rated, hardest-to-get-into restaurants in Cartagena—lucky Old Dogs!
Walking around … and even getting lost, we discovered places we hadn't necessarily been heading for. The colorful buildings of Getsemani, the simple shops next to elegant designer establishments, the parks, the horse-drawn carriages that add their own peculiar "fragrance" to the area…all in all, mucho eye candy!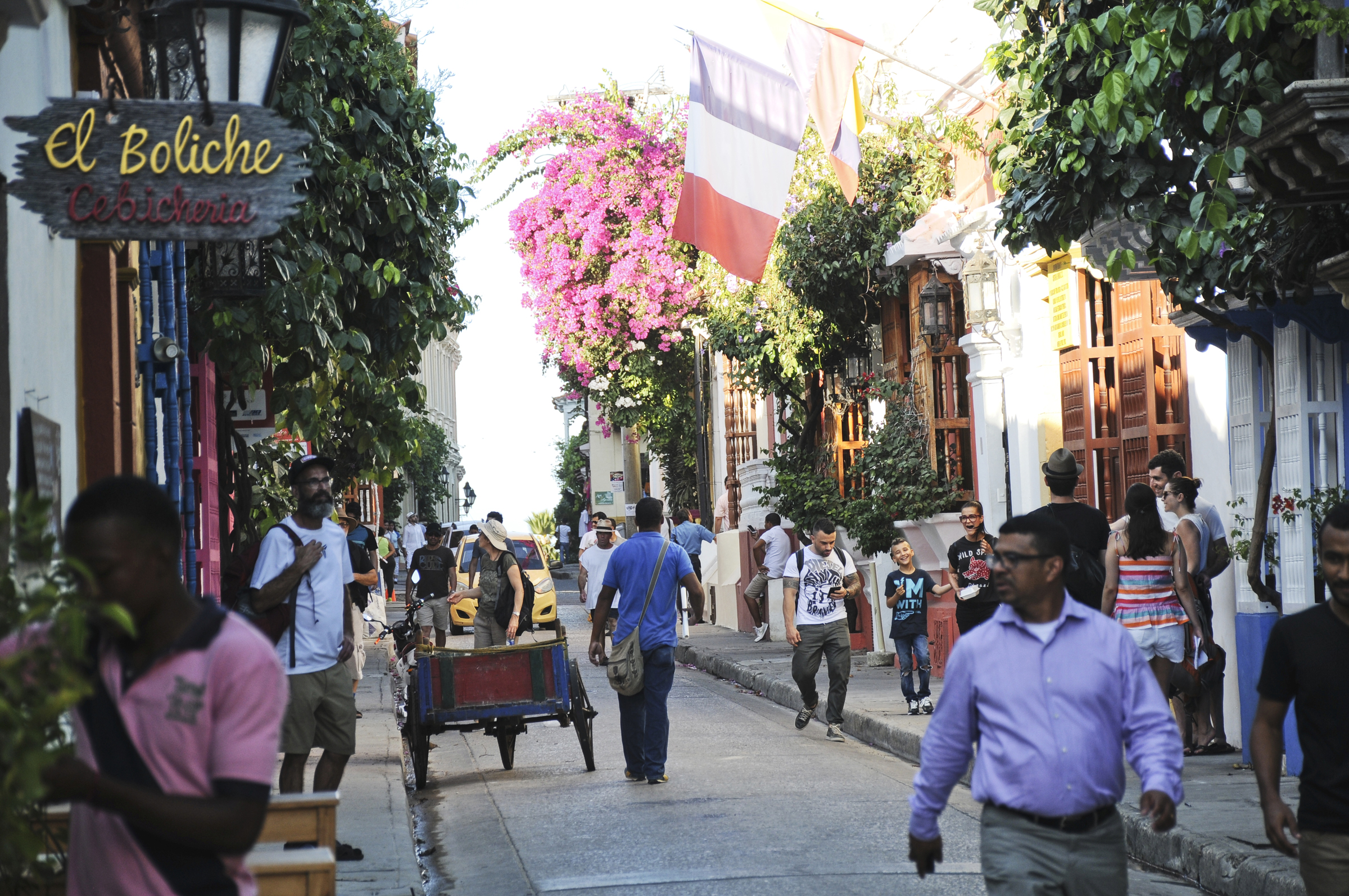 Cabs are well regulated, and you can find them almost anywhere except pedestrian-only areas. I even rediscovered my high school Spanish in friendly conversations with most of our taxi drivers, much to my husband's surprise and delight. And they are wonderfully inexpensive!
We did miss one of Cartagena's main attractions, the Castillo San Felipe Fortress, because the walk up the hill in the bright sunlight and heat really didn't appeal to me. If forts are your thing, we recommend heading there early in the day, before the sun gets too high. But even without climbing that hill, we found plenty to do to entertain ourselves in the charming city of Cartagena, where most of the walking and the living is easy.
Text and photos by Vay David and John Laudando
olddogsnewtrips@gmail.com