One September, we took our most fondly remembered trip yet—to Croatia. We flew into Split on United Airlines and took a short taxi ride to Trogir. We spent our first nights in Trogir's small but mighty ApartHotel Bellevue—mighty mostly because of the unbelievable breakfast they serve to guests. The room was pleasant, the wi-fi good, but the breakfast was superb! You name it, they served it, graciously and generously. And, for my hubby, best of best…plenty of espresso.
Trogir is a beguiling little town created 2,300 years ago—it's been influenced by ancient Greeks, Romans and Venetians. In 1997, it joined the UNESCO World Heritage List, declared the best-preserved Romanesque-Gothic complex in all of Central Europe. Its medieval core, still partly surrounded by walls, includes architecture from the Romanesque, Gothic, Renaissance and Baroque periods. Trogir's grandest building is the Church of St. Lawrence—its west portal by Radovan is a masterpiece considered the most significant work of the Romanesque-Gothic style in all of Croatia. We wandered contentedly and easily around Trogir for two days, pleased we'd chosen it as the first stop on our grand Croatian adventure. From Trogir, we caught a bus to Dubrovnik.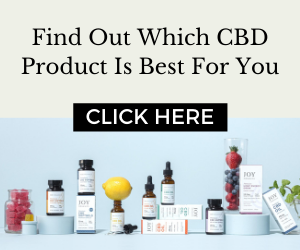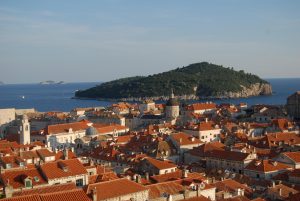 Now that Game of Thrones has finished filming and fans are no longer looking for stars and crews to follow about, hopefully Dubrovnik will be a bit less crowded. The city's not-to-be-missed activity is walking the walls that surround it—all 1.2 miles of them. From the walls, you gaze over the entire city and out to the sea, from a wide variety of viewpoints. And, once you've climbed the stairs, the walking is easy.
Dubrovnik—known as the 'Pearl of the Adriatic'—is on the Dalmatian coast and was an important Mediterranean Sea power from the 13th century on. Although severely damaged by a 1667 earthquake, Dubrovnik kept its beautiful Gothic, Renaissance and Baroque churches, monasteries, palaces and fountains. It was devastated again in the 1990s by armed conflict, and as you walk the wall, new roofs constructed after the bombings that occurred mingle with rubble that still remains from them. We viewed a special photography exhibit in a corner of the wall that showed the extent of the destruction and was a horrific depiction of what war can do.
In Dubrovnik, we stayed up on a hill, beyond the city walls in Apartments Dubčić, a pleasant room and bath that shared a common kitchen, washing machine and rooftop clothesline overlooking the harbor. Our host pointed us toward Magellan Caffe Restaurant for dinner, and it was so good, we went back a second time. But most often, we ate at any one of the myriad rows of tables that line nearly all the side streets of Dubrovnik. The only way to tell you've walked from one restaurant to another is by the changing place settings, tablecloths and menus. And happily, every restaurant choice we made in Croatia offered excellent food at very reasonable prices.
Wandering in Dubrovnik, in a corner not far from the visitor center, we found jazz musicians and singers performing, so we stopped for drinks and enjoyed the music. At one point, we were cut off by a production crew from said Game of Thrones setting up to film a new episode of the show. Further, on the steps of the Assumption Cathedral, a bride and groom were exiting and tossing candy to the crowds below—one beaned me on the head—undoubtedly a sign of good luck. That luck was confirmed the next day when we joined a Katarina Line cruise of the Dalmatian Islands. Spectacular! And convivial—it's where we made lots of international friends as we all gathered round the same table for breakfast and lunch for a glorious week. Cruise mates. We'd love to see them all again.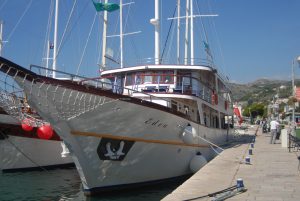 The first night of the cruise was in Dubrovnik, right at the dock, and when we moved into our cabin, we immediately began making new friends. This wasn't a ship. This was a cozy, welcoming boat. This was the Eden. Maximum passengers 42, plus crew. Paradise afloat!
A confession—at this point, we didn't plan to write and publish stories on our travels. But this trip taught us to use our smartphones to create a moving chronicle of our travels. No more of "where did we eat that faaaabulous tuna?" After this trip, we even photograph our meals. Captain Kirk rarely took more advantage of his communicator than we do now with our phones. —they go a long way toward unraveling "senior moments." The day, the time, the place—they're all recorded along with the image. Though we hadn't learned our lesson by then, I'm glad I took photos with my phone on every enchanting island, or we might not be able to recount them.
Here's how the cruise worked—actually, it played! First, breakfast on the boat that first morning in Dubrovnik. After a great breakfast and conversation with our new tablemates, we set off for Korcula, stopping along the way to anchor long enough for a dip in the Adriatic. We docked in the afternoon and spent the day and evening there, with our beds awaiting us in the boat, whenever we chose to amble back. We could have stayed out all night, as long as we were back for breakfast. What we did was meander and meander, stop for a lovely dinner (that outstanding tuna), then meander some more until we were tired enough to turn in.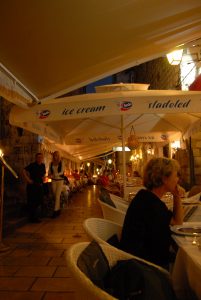 Korcula claims to be the birthplace of Marco Polo, something Venetians thoroughly disagree with. It can, without a doubt, claim to be as captivating as its sister islands that were also included on our route.
After breakfast next morning, we headed for Hvar—it's so famous for sunshine, local hoteliers offer a discount whenever it rains for more than four hours in a day. If it snows, your room is free! It was October 2 when we were there, so the sunshine wasn't so abundant, but it wasn't raining. In fact, neither of us remembers a drop of rain for the whole trip, September 27 to October 7. But we'd recommend cruising earlier the year, so the Adriatic is a tad warmer for those delicious afternoon dips. Hvar is also famous for renowned residents—but we never spotted Beyoncé or Jay Z.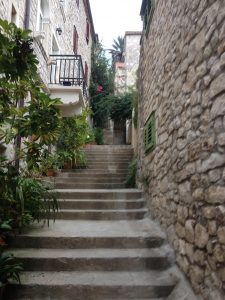 We also visited Bol and its main town of Brac, where we continued meandering and eating wonderful (and inexpensive!!) Croatian food. Our magical cruise ended in Split, with one night on the boat before disembarking. We wandered about Split that night with our new friends, enjoying a concert on the steps of Diocletian's ancient palace. Next morning, we were sorry to see everyone go their separate ways. But we're determined to cruise with Katarina Lines again. Maybe we'll meet our old friends there—and make some new ones!