The Holiday Season for 2017 is close by. Preparations for holiday meals are well under way. Please enjoy the second part of our Holiday Recipe releases with our Favorite Holiday Casseroles and Sides. Let us know how you like the recipes and share your favorites with us and your friends! Thank you to all our contributors!
Broccoli Salad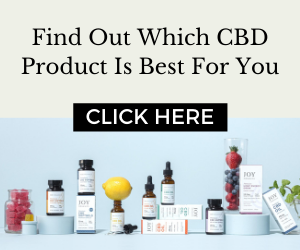 Ingredients:
2 heads fresh broccoli
1 red onion
½ pound of bacon
¾ cups raisins
¾ cups sliced almonds
1 cup mayonnaise
½ cup white sugar
2 tablespoons white wine vinegar
(Optional for the holiday season – add dried cranberries) 
Directions:
Place bacon in a deep skillet and cook over medium high heat until evenly brown. Cool and crumble.
Cut the broccoli into bite-size pieces and cut the onion into thin bite-size slices. Combine with the bacon, raisins, your favorite nuts and mix well.
To prepare the dressing, mix the mayonnaise, sugar and vinegar together until smooth. Stir into the salad, let chill and serve.
Recipe Credit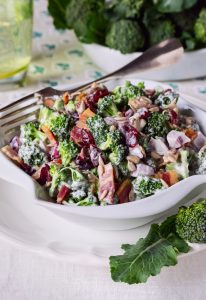 Sweet Potato Casserole
Ingredients:
1 can (29 oz.) sweet potatoes or yams (drained)
½ cup butter, melted
1/3 cup of milk
¾ cup sugar
1 teaspoon vanilla extract
2 eggs, beaten
Topping Ingredients:
5 tablespoons butter, melted
2/3 cup brown sugar
2/3 cup flour
1 cup chopped pecans
Directions:
Preheat oven to 350f degrees. In a large bowl, mash the sweet potatoes and stir in melted butter, milk, sugar, vanilla extract and beaten eggs. Stir until combined well.
Pour sweet potato mixture into a 2-quart (8-inch square) baking dish.
In a bowl, combine the melted butter, brown sugar, flour and chopped pecans. Use a fork or your fingers until mixture becomes small crumbles.
Sprinkle crumbles over sweet potato mixture.
Bake uncovered for 25-35 minutes until topping is golden brown. Let casserole cool for about 10 minutes before serving. The casserole will set-up as it cools.
Recipe Credit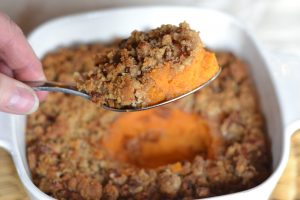 Stuffed Peppers
Ingredients:
4 large bell peppers (any color)
lean ground beef
2 tablespoons chopped onion
1 cup cooked rice
1 teaspoon salt
1 clove garlic finely chopped
1 can (15oz) tomato sauce
¾ cup shredded mozzarella cheese
Directions:
Cut thin slice from stem end of each bell pepper to remove top of pepper. Remove seeds and membranes; rinse peppers. If necessary, cut thin slice from bottom of each pepper so they stand up straight. In 4-quart Dutch oven, add enough water to cover peppers. Heat to boiling; add peppers. Cook about 2 minutes; drain.
In 10-inch skillet, cook beef and onion over medium heat 8 to 10 minutes, stirring occasionally, until beef is brown; drain. Stir in rice, salt, garlic and 1 cup of the tomato sauce; cook until hot.
Heat oven to 350°F.
Stuff peppers with beef mixture. Stand peppers upright in ungreased 8-inch square glass baking dish. Pour remaining tomato sauce over peppers.
Cover tightly with foil. Bake 10 minutes. Uncover and bake about 15 minutes longer or until peppers are tender. Sprinkle with cheese.
Recipe Credit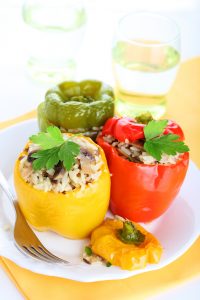 Au Gratin Potatoes
Ingredients: 
3 tablespoons butter
3 tablespoons all purpose flour
1 ½ teaspoons salt
1/8 teaspoon pepper
2 cups milk
1 cup shredded cheddar cheese
5 cups thinly sliced peeled potatoes (about 5 medium potatoes)
½ cup chopped onion
Directions:
Preheat oven to 350°. In a large saucepan, melt butter over low heat. Stir in flour, salt and pepper until smooth. Gradually add milk. Bring to a boil; cook and stir 2 minutes or until thickened. Remove from heat; stir in cheese until melted. Add potatoes and onion.
Transfer to a greased 2-qt. baking dish. Cover and bake 1 hour. Uncover; bake 30-40 minutes or until the potatoes are tender.
Recipe Credit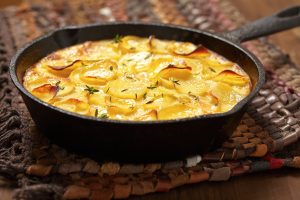 Green Bean Casserole
Ingredients:
1 can Campbell's Condensed Cream of Mushroom Soup
½ cup milk
1 teaspoon soy sauce
1 dash black pepper
4 cups cooked cut green beans
1-1/3 cups French's French Fried Onions
Directions:
Stir the soup, milk, soy sauce, black pepper, beans and 2/3 cup onions in a 1 1/2-quart casserole.
Bake at 350°F. for 25 minutes or until the bean mixture is hot and bubbling.  Stir the bean mixture.  Sprinkle with the remaining onions.
Bake for 5 minutes or until the onions are golden brown.
Recipe Credit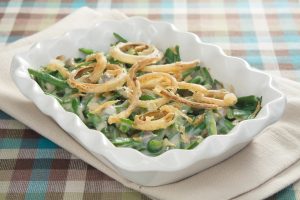 Get this recipe handy
[email-download download_id="12314″ contact_form_id="12315″]